Voice Artist Berlin
Voice artist and actor from Berlin
I'm Paulina. A professional voice artist from Berlin.
Are you looking for the right voice for your voice-over project or explanatory film? My website gives you an insight into my work and explains the booking process.
Do you still have some questions? Then contact me and we can discuss the details.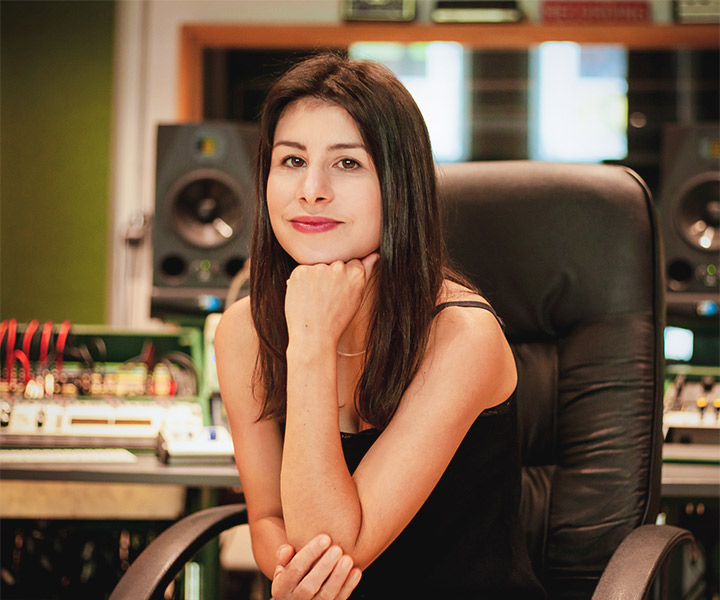 Do you have any special areas of focus in your work as a voice artist?
The areas I work in as a voice artist are pretty wide-ranging, which I think's great! Each genre has its own requirements and challenges, and I love getting completely involved with each new text.
I often receive bookings for advertising, explanatory films and image clips, usually from recording studios in Berlin. Brands such as L'Oréal, Volkswagen, Amazon Prime, Fitness First, dm-drogerie markt or Sparkasse are among my clients, but the list is far too long to name them all.
I also work as a voice over artist for a number of documentary series and reality formats. My voice can be heard well over 100 times on the TV every month at the moment with these productions.
I also record some computer game roles, such as Tails in the Sonic series or as Warrior Lyse in Final Fantasy.
I've been recording videos regularly for the satirical online show "Bohemian Browser Ballett" since 2017 and it won the Grimme Award last year.
I was the station voice for many years at Starmagazin Promiflash, where I reported on the world of celebrities for a total of 2,496 studio hours and thousands of news items.
What does a typical working day look like for a voice artist?
I work on about half of my commissions in my own recording studio in Berlin.
From here, I can easily supply customers all over the world without having to spend lots of time travelling. However, I also work with various recording studios in Berlin and drive across the city from one job to the next.
I also have plenty of work to do at my desk: e-mails have to be written, offers sent and queries answered. Even if I would naturally prefer to be in the speaker's booth in a recording studio recording a voice-over or an explanatory film, there's something to be said for spending a morning on the laptop.
How do you prepare for a job as a voice artist?
With a highlighter pen and a pencil in my hand, I get to grips with the text and make some notes about sentiment, voice tempo and emphasis. Sometimes a video, layout voice recording or other material are also available to help me prepare. I look over the material painstakingly and do some research to make sure that nothing is unclear.
However, I don't usually receive the text to be set to music until immediately before the voice is recorded in the studio. This is especially the case with advertisements, computer games or voice overs for documentaries and features, meaning I have to record the content quickly and make changes to my intonation and mood intuitively. Even if I like to be prepared, I also like setting texts to music "prima vista".
You were born in Düsseldorf but you work as a voice artist in Berlin. What attracted you to the capital city?
There are many advantages of working as a voice artist in Berlin. There are lots of recording studios in Berlin and therefore lots of jobs as well. Of course, I could live in a different city or even in the country and record all of my commissions as a voice artist in my home studio. My own recording studio with sound booth, studio monitors and Neumann microphone allows me to provide my customers with professional voice recordings no matter where they are based.
Even though the option of making recordings in my home studio is practical, I wouldn't want to miss out on my regular visits to the recording studios in Berlin. I like being part of a team and recording studios are usually full of kind and funny people!
Don't you face a lot of competition as a voice artist in Berlin?
Competition as a professional voice artist in the industry is limited. I think the voice artist community shows a lot of solidarity as a whole.
I was given lots of support from the "old hands" when I first started out as a voice artist. Learn from the mistakes of others, not just your own – I think that saved me from the odd unpleasant experience as a voice artist. Our professional organisation, the Association of German Voice Artists, also does excellent work and enables us to share our experiences honestly.
Professional voice artists don't make a big secret of their fees, but work according to a price list which is publicly available. This transparency protects us from undercutting each other.
How do you keep your voice fit as a voice artist?
Voice exercises are mandatory before you get up in front of a microphone! A few "sighs of relief", rolling up and down your spine, stretching and relaxation exercises for the tongue. And of course, funny articulation exercises along the lines of "She stood on the balcony, inexplicably mimicking him hicoughing, and amicably welcoming him home" are also part of my morning warm-ups.
Otherwise, I do everything I can to avoid getting ill. I always have plenty of ginger tea, zinc tablets and thick socks, especially in winter.
As well as regular one-on-one voice training (currently with Susanne Eggert), I often attend voice artist workshops and training as a dubbing artist (most recently with Peter Minges, Christian Rode, Irina von Bentheim among others). This provides me with important ideas and lots of inspiration for working as a voice artist in the recording studio.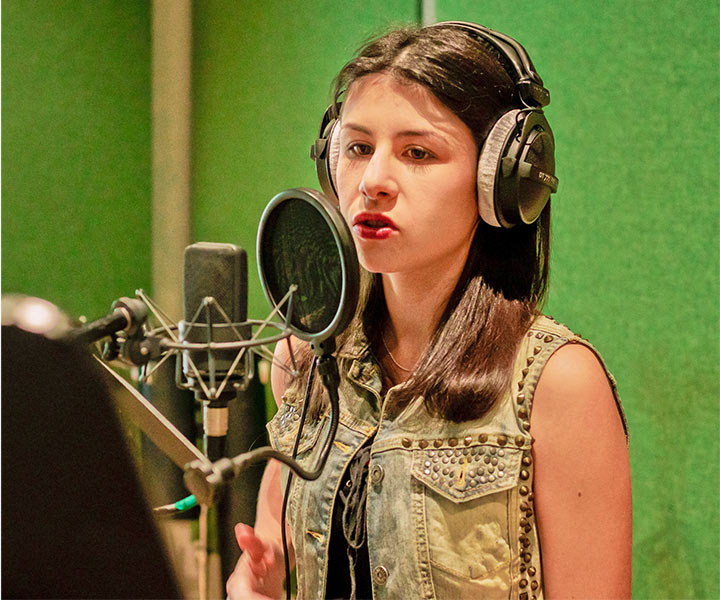 Optional with own sound studio
My own sound studio is located in the heart of Berlin. This means I can work on your project without long waiting times.
Optional i work closely with several Berlin Recording Studios and happy to hire space in the studio that is right for your project. Let's talk it over and see what we can do.